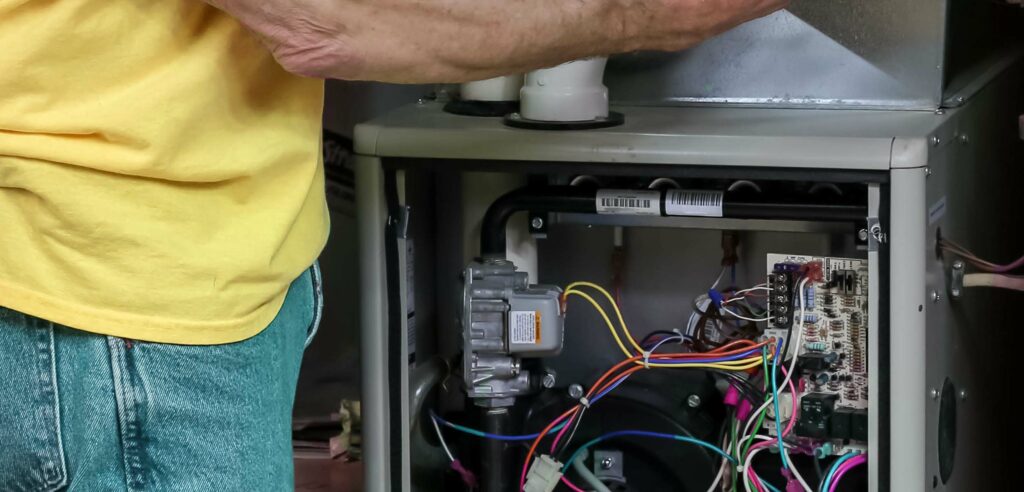 When considering a new car, or a place to hang our hat, the age-old debate on whether to lease or buy often comes up. This question can also be asked about a new furnace in Ontario. These days, customers have options to rent, finance, and outright purchase home heating systems.
Factors like affordability, the cost of future repairs, and the likelihood that you'll sell your home in the near future should affect your decision to rent or purchase.
Let's discuss what the long-term implications are when it comes to buying vs renting a furnace for your home.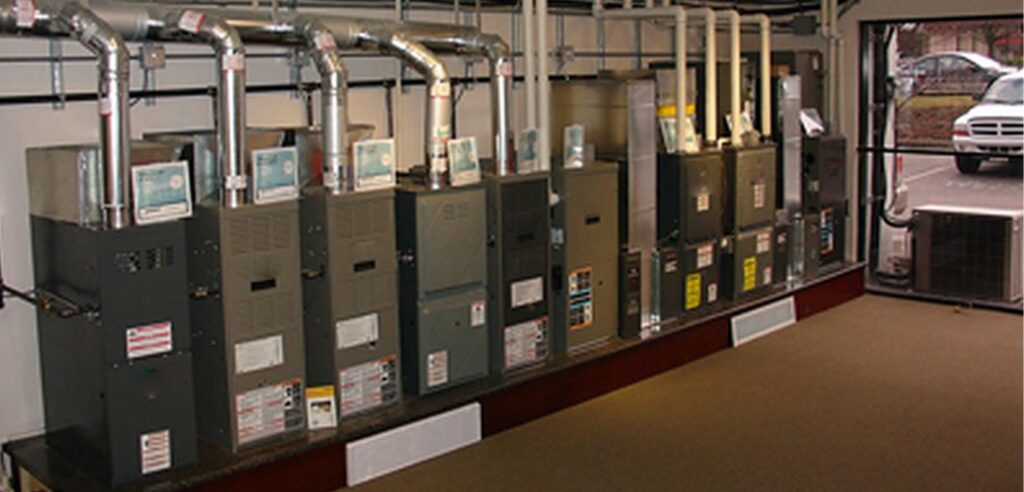 What's The Difference?
When it's time to replace your furnace, how do you know whether you should buy or rent? Let's outline each payment model and what to expect when you sign the papers.
Buying a Furnace
Typically when purchasing a new furnace for your home, there's a broader range of solutions compared to renting.
When purchasing, you can choose your service provider and the type of unit being installed. From single-stage to dual-stage, high-efficiency units, natural gas to electric, the options are numerous.
Buying your furnace also means you own the furnace. And once it's paid off, you won't have to deal with monthly payments on top of your existing utility bills.
Renting a Furnace
Renting means you get a new furnace installed with no upfront cost. The cost of the unit is broken up into monthly payments over the length of the agreement. At the end of the contract, you can choose to buy the unit outright or have it removed from your home.
The thing to remember here is that you don't own the appliance after your contract.
Buying or Renting: Does it Really Matter?
The implications of buying or renting a major appliance go beyond the upfront costs and even the monthly bills you'll be facing. Several factors should influence your purchasing behavior and decision.
Sometimes the allure of a new furnace with no upfront cash is enticing. But interest rates and some limited options in the future are worth considering. Understanding your total cost of ownership (TCO) on a furnace or any other major appliance is important.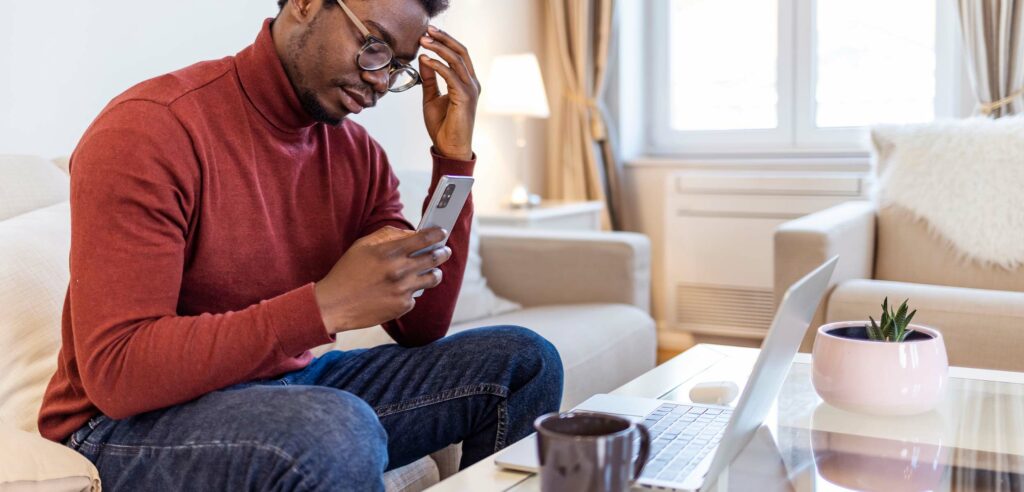 Financing Furnace Payments
Not everyone has the funds to pay for a new heating system up-front. That's why companies like Reliance Home Comfort offer the option to rent. Renting is an attractive model that makes getting a new furnace financially easier in the short term.
However, many HVAC companies provide financing options for people purchasing new home comfort systems.
Overall, financing payments tend to be lower than rental payments. Although it's common for some portion of the furnace cost to be required during purchase. Financing payments are also fixed for the term of the loan, where most rental payments increase annually. This could save you money over the lifetime of your furnace.
Consider Buyout Rates
Some heating services companies will offer rent-to-own. But keep in mind that certain rental contracts stipulate you won't own the equipment once the contract ends unless you pay a buyout fee. You might also get stuck with a removal fee to get the furnace out of your house.
These buyout fees are an additional cost after you have paid monthly rental fees for many months. This will exceed the total price for the same unit purchased outright.
Buyout rates are typically calculated as a percentage of the total installed cost of the furnace. These fees vary by company and contract, but some average buyout rates for a rented furnace are as follows:
3 Years After Furnace Installation – 96% Buyout Rate
6 Years After Furnace Installation – 86% Buyout Rate
9 Years After Furnace Installation – 74% Buyout Rate
12 Years After Furnace Installation – 53% Buyout Rate
15 Years After Furnace Installation – 15% Buyout Rate
The Interest Adds Up
Like most pay-later agreements, renting or financing a furnace does carry some interest. This typically ranges from 2-3% each year for rentals and up to 10% for financed units. This money does not contribute to the initial cost of your heating equipment.
The length of terms for a furnace rental agreement can last up to 15 years.
In the long run, purchasing a furnace from an HVAC company will save you money if you want to own the appliance you've been paying for. Usually, financing assistance will provide a lower interest rate than a rental contract made directly with a furnace dealer.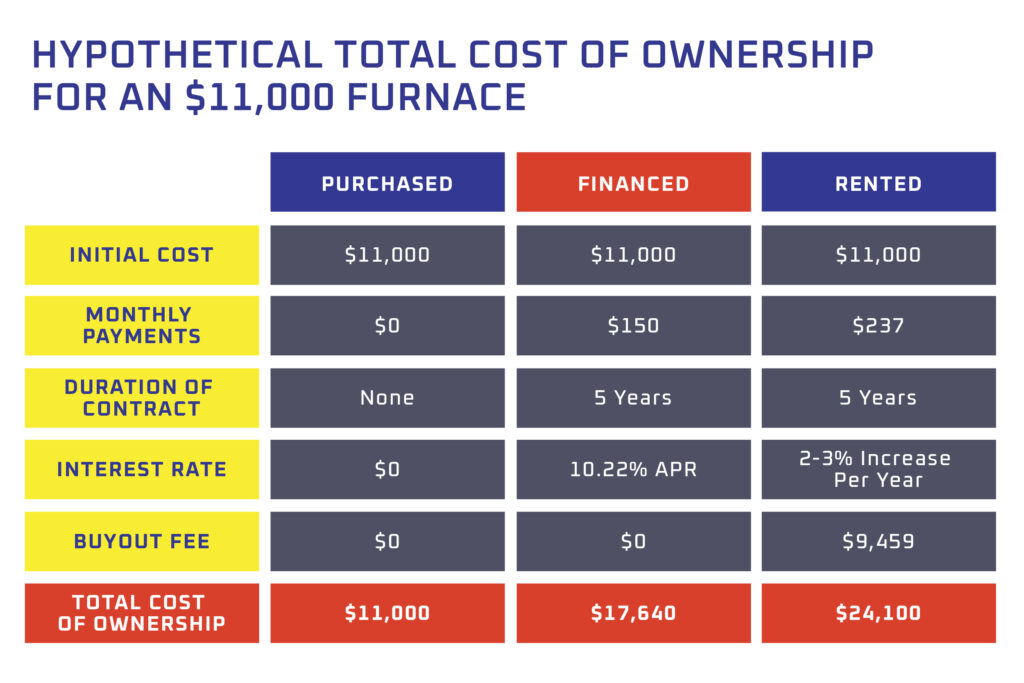 Managing Furnace Maintenance
Even the best equipment on the market may require a furnace repair at some point. If you're renting your system, the cost of any repairs should always be covered. However, It's always important to read your contract carefully, as some rental agreements may have exclusions.
When warranties end on a purchased furnace, you'll have to pay the repair costs out of pocket. An important consideration is buying an extended warranty to help cover unexpected costs.
Some heating companies offer memberships that give discounts on equipment repairs. Another way to keep service costs down is by having your heating system inspected regularly.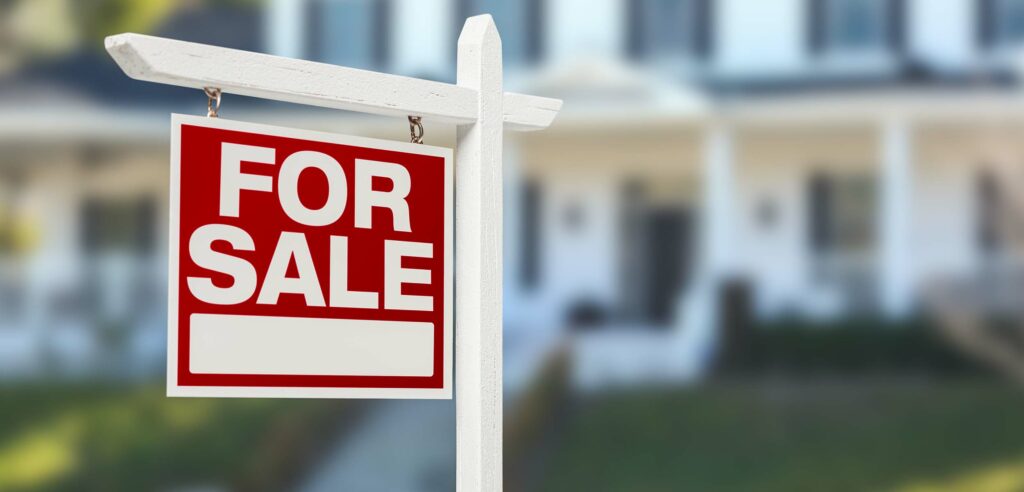 Thinking of Selling Your Home?
Purchasing your HVAC system will give you the flexibility to sell your home without the added complications of transferring a rental contract.
In some cases, potential buyers may be turned off from buying a home with a rented system. Buying out or transferring a rental contract during the first few years can be extremely costly and, in some cases, impossible.
An owned asset is more attractive to buyers and might be the reason an offer is made. Plus, if a prospective buyer's inspection reveals a problem with the furnace, the buyer may use that to leverage a lower offer.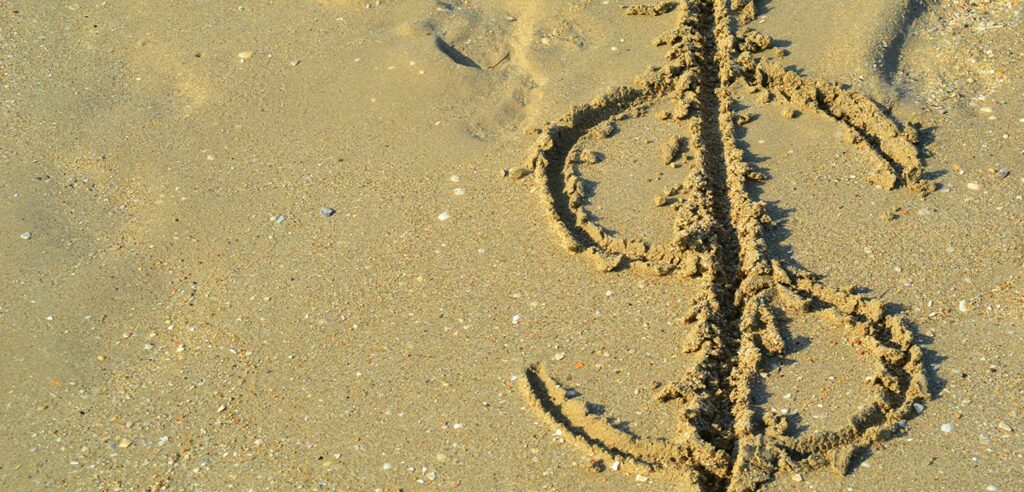 Potential Summertime Blues
Renting a furnace means you have monthly heating system payments all year round. And those are on top of utility bills!
So when you're budgeting the costs over the long run, it's important to remember that your furnace has a monthly debit even if it's been turned off for months. Monthly household operational costs are even higher if you're running an air conditioner in the summer.
Seek Professional, Trustworthy Furnace Advice
Considering whether it's better to buy or rent your furnace is an important decision that should be made before the Ontario temperatures drop. It's wise to get information on both rented furnaces and financed heating systems in your region.
Cross Heating & Air Conditioning helps homeowners get the most value for their budget when replacing furnaces and heating systems. Our trained and insured HVAC technicians will walk you through the various model and financing options available. No matter what pay model you select, we'll make sure you feel educated and confident about your decision.